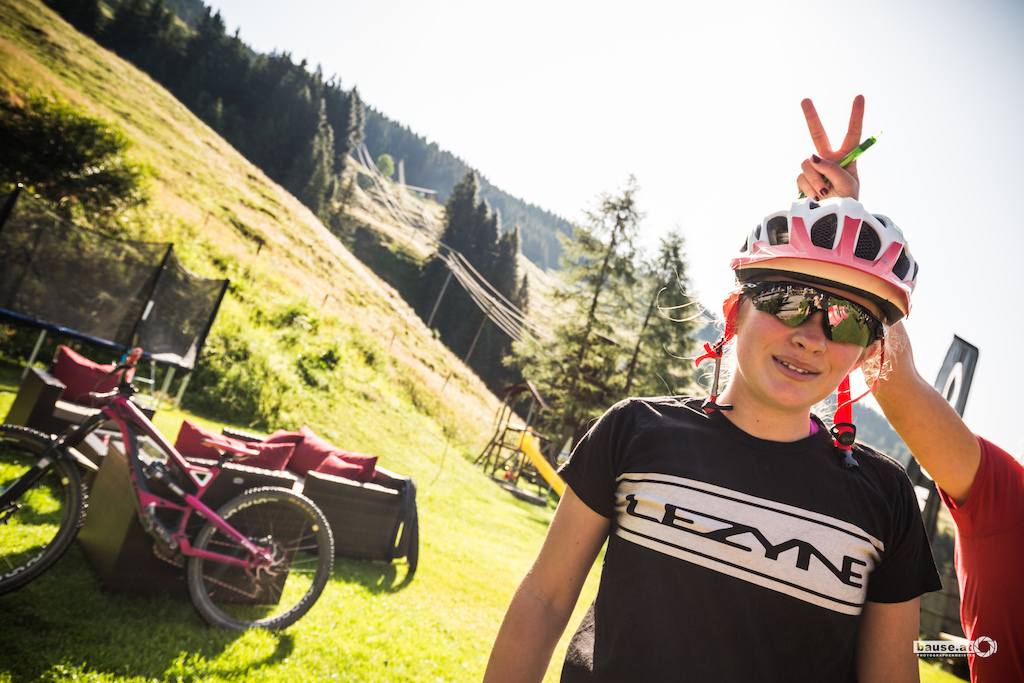 For most, Valentina Höll isn't a name you would have heard before, but considering she's only thirteen, that's to be expected. Despite her age she's making a name for herself in the industry. Two years ago she was signed with YT Industries, given a six year contract and has since been competing in the boys category at most iXS races. Growing up in Saalbach, Austria, she began riding from the moment she could walk. Combine this with supportive parents, an understanding headteacher and a godmother who rides, it's pretty much a recipe for success when you include Vali's talent.
While she may be young, Vali hasn't escaped the attention of the industry, from Rachel Atherton to a whole host of sponsors, Vali has her head in the right place. She's focused, dedicated and already has a strong social media presence and her own athlete page on Facebook.If her name is unfamiliar to you, rest assured she'll be one to watch in future. She's already posting times faster than most women she competes against and is often posting times faster or equal to boys her own age. We caught up with her to find out about her riding, racing and dreams for the future.

You actually competed in your first race when you were three, when did you start riding?
I started riding without training wheels when I was three years old, after this first race, I wanted to race more, but I was only three, so I couldn't race anymore races. I started to ride kids freeride races (it was kind of a dual slalom) when I was 7 or 8 and I really loved it. In 2013 I raced in the iXS Rookies Cup for the first time, it was really impressive to see so many kids racing.

What's the riding like near your home, have you built a lot of your own trails?
I am so lucky to live in the mountains, there are a lot of options to build trails. After my parents took a trip to Whistler in 2008, my dad decided to build his own trail under our house with little north shores and jumps. Sometimes I help him to shape them and give him advice on how to build something for me.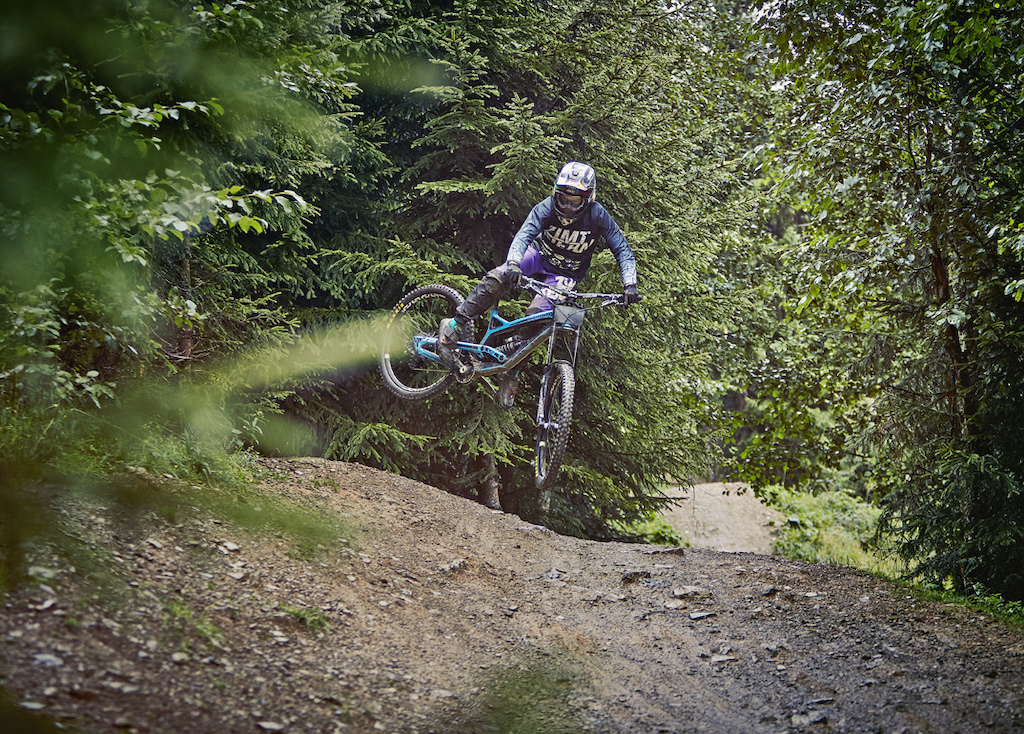 How old were you when you considered that you'd like to pursue mountain biking as a career, or is there something else you'd like to do as you get older?
It is my biggest dream to be one day a professional mountain biker, for sure, but it is a long way to go and nobody knows what happens. I'd also like to finish school and to go to university later and study event marketing. At first I wanted to be a veterinary surgeon and teacher, and sometimes a junior boss of our lodge, but it would be really cool to be a manager in a downhill race team or a journalist for Red Bull or Pinkbike. I only want to see the world, cause life is short.

How do you manage to balance school with training, riding and racing?
Yeah it's sometimes a little bit stressful, when the teachers mean they are the world and you have to study everything but I am sure I don't need square roots or anything else later in my life but I have got a really cool headmaster, and he is really interested in the competitions of his school kids and he will often let us have free time when we have races or training, that's really cool. One good thing is that I am in a sport school, so we have a lot of training like crossrunning, crosscountry skiing, gymnastics and athletics. But we get nine weeks summer holidays, so I can ride my bike everyday and any time.

Talk us through YT, how did you come to meet them, and how does it feel to have their support for the next few years?
Yeah YT is really cool, they make cool bikes, they have cool stickers, they are just AWESOME. Yeah it's a really funny story, I had to write a exercise for my German teacher, so I wrote about my first kids race when I was seven or eight, I wrote everything, like how to make my bike ready, how nervous I was and how fast I was cause I was faster than all the boys at this time. A good friend of the family saw it and liked it, he showed it to Markus Flossmann, the boss of the company and he was really stoked, after this he looked at me and watched what I was doing and in Winterberg back in 2013 where I won in the U13 class with the boys and, yeah, after this competition, I started riding for YT Industries. I was really stoked, they are so nice, friendly and it is really easy to work with them because I have no commitments, only rights and that's really cool for a young girl.

For the past few years you've been competing in the boy's category, absolutely smashing the times of your fellow female competitors, how did this category change come about?
It was in 2013, my first year, I was always in the top three, but in 2014 I had to race against 14-year-old boys and they are so much stronger, faster and better. But I have always looked at the women's times and that was always a reason for me to have fun and to train more and try to be better you know, Sometimes I had some boys to hang on, but at this time, no boy talked to me and it was a little bit strange. But this year it's perfect, we all have fun together, we train together and talk together. It's like kids who have fun with their sport.

How did it feel to come 4th in the U15 boy's category when you raced the second round of the iXS Rookie Cup in Winterburg?
Yeah the feeling was awesome, it was round two in the cup and the first race didn't go well for me. So I wanted to give it full gas in the finals. The day before I got my new bike, the TUES CF and my dad said I should ride with the old one, but I felt so comfortable on the new bike that I trained with it. I felt so much faster and safer and smoother. Unluckily I had a puncture in qualifying but I was still in 5th place, I was like OMG why I am so fast! At the race I had a good run and was in 4th place (my dad said I had to pedal more) but I was really happy, there were only three boys faster than me..

How have the guys reacted to having you race with them?
The first two years they didn't talk with me and there weren't a lot of girls. But this year is so much cooler. The boys want to go riding with me and so on. This year, myself and six kids from my home town; two girls and four boys, it's always so much fun to do track walk, choose the lines and have a BBQ at night. And there are more girls, it's always cool to see more girls racing.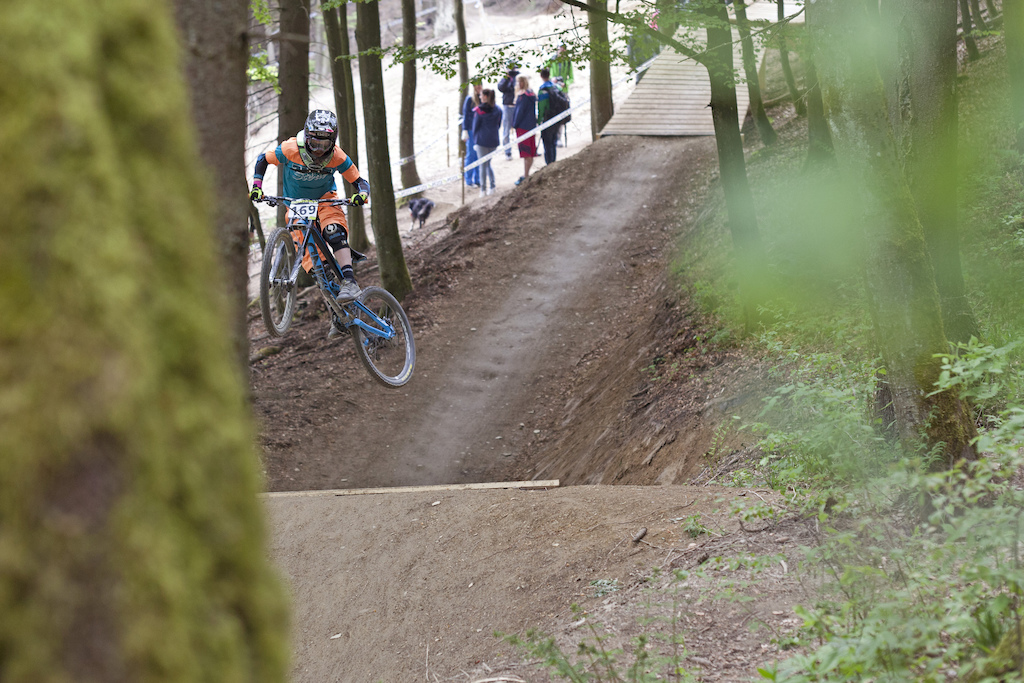 You ride a lot with fellow YT rider, Angie Hohenwater, what have you learned from her and what's it like to ride with someone who has a lot of experience?
It's so cool to ride with Angie, she is my godmother and like my big sister. We always have fun together and doing fun stuff like freestyle table tennis. It's definitely a big help for me to learn how to talk with sponsors and how to portray a good image. She is often with me at races and whenever she is there I have good results. She is my lucky charm.

You recently met a lot of your mountain bike heroes in Leogang, what was it like and did they have any cool advice for you?
OMG when they said I can have an interview with them I was shocked, I was scared to talk with them and forget my English words, but they said keep calm and be cool. I was talking with Tracey Hannah, Emmeline Ragot and Rachel Atherton (my biggest hero). They were so nice and friendly. They all were nervous too because there were a lot of cameras. But we laughed a lot and they gave me good advice too of course. They told me you should never be too hard on yourself when you haven't got a good result or have a crash and things like; you should always be good in shape, do road riding, ride with clips and never forget to have fun but concentrate. It was really cool to meet them and to talk with them.

You raced in the U15 male/female category in the iXS Rookies Cup finishing in 12th (beating the fastest girl in the U19 category by 4 seconds) with a crash, what happened and how do you think you would have done if you hadn't crashed?
Yeah I was really quick on the track, but there was a flat corner where I unclipped and I couldn't get back in, so I tried to stay control, but then there were a lot of berms and I slipped off the pedal and crashed, but I had a solid time of 3:41, the commentator said the crash has lasted 10-12 seconds but that's racing!

What was the track like in Serfaus-Fiss-Ladis, did you enjoy it?
Yeah I really love that track, the track has everything, bikepark berms, big jumps, wood stuff and little rock gardens. Before the race it started to rain, I was like Oh s**t, I only had 15 minutes to go, so we really quickly put my rain tires on, but it was so dry, it was amazing, it's definitely the most fun race track in the cup.

Congratulations on your win in the U15 females at the Kona International Rookie Games, how important do you think the event is for the future of young riders?
Wohoo thank you! Yeah I think its really important for us that somebody is organising something special for little downhill racers, especially this year because on Saturday and Sunday we were live on Pinkbike! My little fellow Gustav was really happy and nervous too, but it was also really cool that my family at home could watch it. And definitely a huge motivation for everybody.

What's the best thing about riding your bike for you, what do you enjoy the most?
It is just an awesome sport, you are in nature, you are free, you have fun. I really love to ride on fresh wood stuff or on wet dirt. I really enjoy riding new spots and tracks. One cool thing is that you always meet cool people.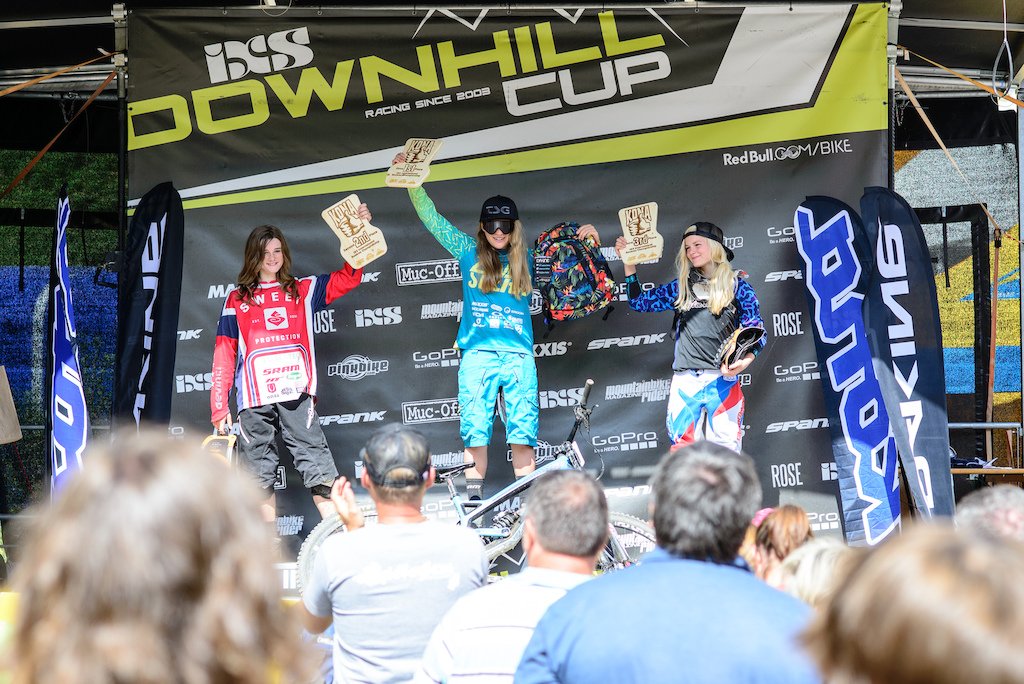 The iXS Int. Rookies Championship during the Kona International Rookies Games in Tyrol Austria on August 9 2015. Free image for editorial usage only Photo by Felix Oesterle.

What's been your proudest achievement so far?
Definitely my win in Whistler, it was my first International race. It was on the B-Line and I raced against Jackson Goldstone's sister, Bailey Goldstone, she is really cool, like her whole family. The trip to Whistler was a present from Angie, we stayed there for two weeks and went to Crankworx. It was so cool there, all the people are so friendly. And it is the best bike park in the World!

I know it's a long way off yet, but what would you like to achieve in the next few years?
Yeah, next year I am going to race the European Cup and German Cups, it's cool to be old enough to ride tracks where all the world cup racers ride too. And to meet them and maybe ride with them. It is going to be interesting to see how much faster they are and how much I have to train in the future. It's going to be awesome!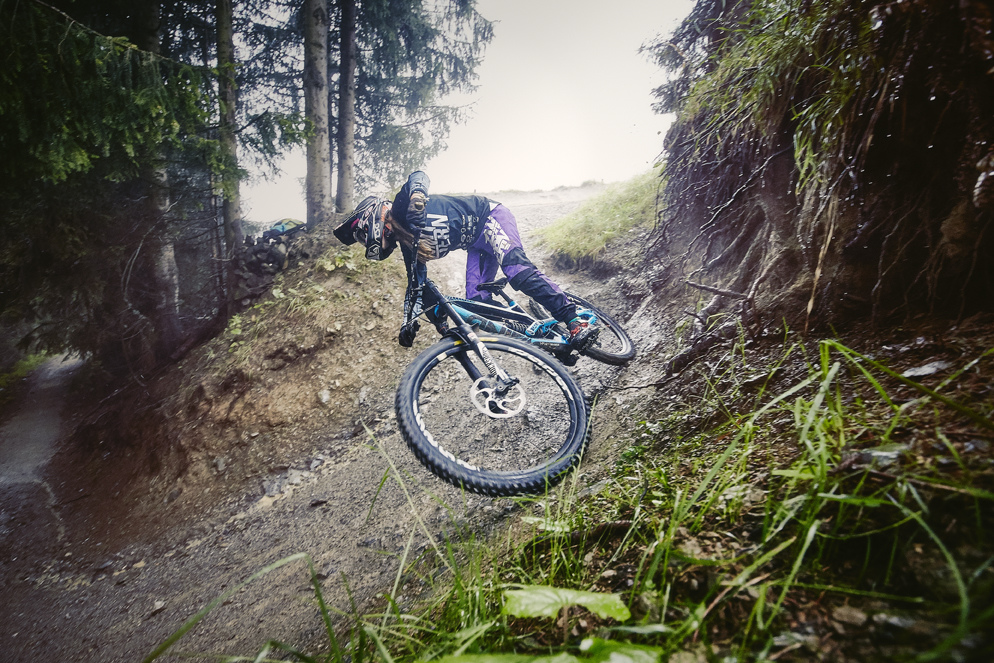 What have you got planned for the rest of the year?
I am going on the Eurobike in Friedrichshafen, then maybe on a holiday with my family and the World games at home. At first I wanted to fly with a fellow rider to the Red Bull female Foxhunt, but then I realised that I am too young for this awesome event, so maybe next year!
This interview was originally published
on Pinkbike
on 9 September 2015. All images are subject to copyright and must not be used without the photographer's permission
.